ASTA contains best hotels, we provide best and stars hotel in your iran tour
Zandiyeh hotel, Shiraz
The Modern Zandiyeh Hotel being an Iranian Original Persian Hotel has been constructed at the heart of Shiraz City and in the vicinity of the historical and most invaluable complex of Zandiyeh – namely of Zand Dynasty – Karim Khan is the one who chose Shiraz City as their Capital of Iran about two hundred years ago. Built with a unique appearance and deeply inspired by Shiraz historical architecture, the hotel presents an eye-catching and most relaxing atmosphere for the guests. Beside, the sky towering brick-madecitadel, the marvelous Zand Royal citadel (Now the museum),the gorgeous mosque with its glittering azure blue minarets and the magnificent roofed Vakil Bazar extending from North to the South of the city are all just within your sight.
---
Chamran Grand hotel, Shiraz
The tallest hotel in Iran's capital of culture and history, located in the beautiful district of Ghasordasht, with a breathtaking view of the city of Shiraz and the heavenly gardens in the vicinity, Chamran Grand Hotel has utilized the knowledge and the experience of the experts in hoteliering and hospitality industry and has taken all the international standards for service quality into account, promising a memorable stay in the heart of tranquility and serenity.
---
Shiraz Grand Hotel, Shiraz
Shiraz Hote
l is a five star hotel which is located in the city of Shiraz, the birthplace of
Persian culture
and art. This hotel, with 40000 m² area in 14 floors, is situated in neighborhood of the holy Quran gate and it is close to touristic places in
Shiraz
. The hotel welcomes the guests with luxurious rooms, several restaurants and coffee shops, laundry services, travel agency, conference rooms and ball room, sport complex and game net.
---
Pars International Hotel, Shiraz
Five-star Shiraz Pars Hotel located in the central district of Shiraz is consisted of two buildings and 13 floors that two floors of restaurant and lobby are connected to each other. This beautiful restaurant of the hotel on the 13th floor named Lotus Restaurant has a unique city-facing landscape.One of the most luxurious hotels in south of Iran, with well-trained and experienced staff is located on the most important street of the city, Karimkhan Blvd. The hotel is consisting of two towers with 194 rooms, suites and apartments with the most modern & latest facilities for a pleasurable stay and is just 20 minutes away from the international airport.
---
Setaregan Hotel, Shiraz
Shiraz Setaregan Hotel which is located in the northern part of the city with a beautiful view of the city during daytime or at night, welcomes the guests who want to relax in a calm atmosphere far from tensions of the city. One of the advantages of this Hotel, is being located in an area which is near to the gardens and historical monuments parts of The city. We also do offer tours of persopolis ,botanical garden , old and new part of the city of shiraz and historical monuments. Other facilities of the hotel, include Sauna, Jacuzzi, Laundry, Coffee shop, Taxi service, Traditional and modern restaurant and equipped saloons with heating and cooling systems for different seasons and free high speed internet service (wireless) and ... Setaregan hotel with its suitable facilities and special saloons is ready to host your family celebrations, seminars, anniversaries and cultural gatherings.
---
KarimKhan Hotel, Shiraz
You will experience a nice travel in the Karimkhan hotel with a traditional and simultaneously very luxury and modern stays. The traditional karimkhan hotel has 51 various rooms that is affected by Iranian architecture that makes you feel relaxed and have a comfortable stay. Single, double rooms and suites of hotels are so perfect for your long-term stay in beautiful city of Shiraz. The room interior services : refrigerator,Television (Tv set), Telephone, rooms' heating and cooling system,The central system of antenna, wifi, safety-deposit box, electronic card system of doors, minibar, bathroom and Extra services. The traditional tea house of karimkhan hotel is a place with an Iranian design that will host you with traditional tea, herbal tea, ice cream and faloodeh (or paloode : an Iranian cold dessert) and make your stay more enjoyable. Also you will enjoy traditional music and use wi-fi.
---
Espinas Palace Hotel, Tehran *****
224 tastefully decorated guest rooms including luxurious suites.Modern room facilities such as Wi- Fi high speed internet and LCD TVs with satellites access.State of the art air conditioning and ventilation systems.Glamorous halls for all types of events, gathering and conventions.Continental Breakfast Buffet and International cuisine Presented by any of our three restaurants offering the best service in food and drink.Complete and modern '' Fitness Center''Relaxing and friendly lobby area with Coffee Shop& Piano lounge.The best and largest private parking facility totally eliminates parking issues for guests and all who use Espinas Hotel services.Espinas Hotel is a grand family residence situated right in the heart of Tehran capital city center. The superb location of the hotel surrounded by Tehran most spectacular attractions and its accessibility to public transportation terminals, makes it perfect not only for a day tour visiting our cultural heritage such as Carpet , Glass , Golestan Palace, Ostad Saba Museum, and Big Bazar, but a very top choice to stay in Tehran for both business and pleasure, a hotel by a growing collection of distinguished properties around Iran.
Considering the importance of Tourism Industry and Iranians hospitality well-known throughout the world, rooted in Iranian culture for centuries, has encouraged the owners of the hotel to expand their business by increasing the number of Espinas Hotel branches. To address your curiosity, it's worth mentioning that The Espinas name was proudly born from the highest mountain in the geographical area of Astara City-Gilan province and means settling down in highland area. What we have rendered to our guests so far and how we are trying to better our services has all been for creating a peaceful and comfortable atmosphere for our guests. Nevertheless, we have been awarded the following prizes and credentials from respective authorities.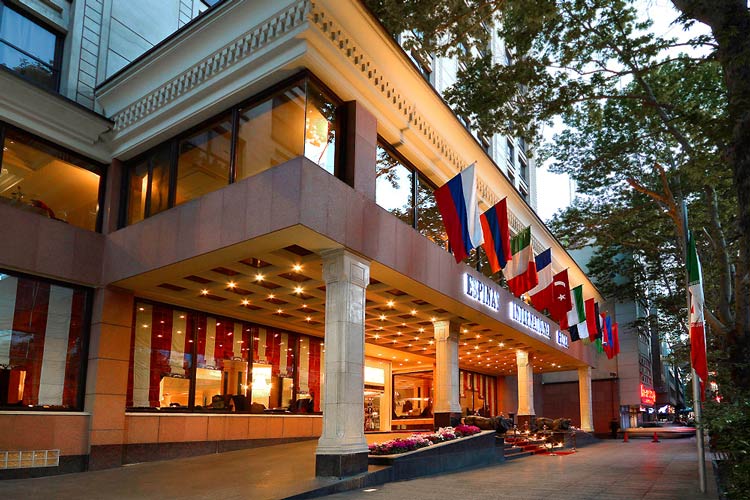 Azadi Hotel, Tehran ****
Tehran Azadi Grand Hotel is one of the best 5 star hotel in the whole Iran, recently restore during the Tehran International Exhibition, the hotel is a place for both tourists who want to enjoy the beauties of the city and business men, in fact, the hotel houses a number of conferences and congresses, and political and governmental gatherings of various kinds. The hotel offers a staff of experts and professionals who provide great service and high level in guests treatment. on 24 floors, fully air conditioned and equipped with every comfort and service, the hotel offers a staff of experts and professionals who provide great service and treatment of guests. Facilities include a bar and 3 restaurants serving the most delicious dishes of Iranian and international cuisine, internet cafe with satellite connection wi fi, spa with pool, sauna, tennis court, gym, Jacuzzi.
Esteghlal Hotel, Tehran *****
Standing majestically at the old beautiful alborz mountain range offers you the fine art of iranian traditional hospitality in the international level. It boasts of a traditional admirble service, with carefully blended luxurious appointments to imperess the international businessmen and vips.Esteghlal Hotel (Ex-Hilton) is the greatest 5 star international hotel in Iran with the area of 70000 square meters. The West Tower established with 259 rooms in 1962 and the East Tower was inaugurated with 291 rooms in 1972. Due to holding the 8th session of the Islamic Summit Conference in Tehran, East Tower was renovated in 1997 and the South Tower is under construction for the development programs.
Homa Hotel, Tehran *****
Five-star Tehran Homa hotel located at the heart of Tehran and Valiasr St. having easy and fast access to the main trade and official centers is a splendid tower hosting guests and travelers with its complete accommodation facilities. The design and arrangement of Tehran Homa Hotel are conducted through the most modern and beautiful furniture adopted from the most precious art works making the best accommodation space for you and your ceremonies and conferences.
Niyayash traditional hotel of Shiraz
Niyaysh hotel as one the traditional and beautiful hotels of Shiraz. the view of this hotel is amazing and the decoration of hotels are great. this hotel is located in old and touristic area of Sange Siyah and it means Black stone which belongs to the black stone of the great Persian linguist and grammarian of Arabic language, Sibawayh. this hotel is between the old alley of this toristic area.