Iran Products & Souvenirs are the best choice for souvenir. you can buy Iran products & Souvenirs for your family from your Iran tour.
Giveh
Giveh is a kind of soft, comfortable, durable and handwoven-top shoe common in several parts of Iran especially in rural and mountainous areas of Kermanshah Province. The production centers of Giveh are the two provinces of Yazd and Kermanshah in Iran. It is the only shoes in the world which there is no difference wether you wear the right or the left because both are the same. Giveh is made up of two parts: sole and upper. The sole is usually rubber or leather the upper is woven thread. Before the arrival of rubber industry to the area, Giveh-makers would use a kind of wild-bull leather to make giveh and the upper was of wool or cotton thread. Most rich people would wear them. With the arrival of rubber industry, lower-class people have used rubber in the sole of their givehs.
Caviar
Caviar (From Persian Xāviār ) is a delicacy consisting of salt-cured fish-eggs of the Acipenseridae family. The roe can be "fresh" (non-pasteurized) orpasteurized, with pasteurization reducing its culinary and economic value. Traditionally, the term caviar refers only to roe from wild sturgeon in the Caspianand Black Sea (Beluga, Ossetra and Sevruga caviars). Depending on the country,caviar may also be used to describe the roe of other fish such as salmon, steelhead, trout, lumpfish, whitefish,carp,and other species of sturgeon. In 2009, Iran was the world's largest producer and exporter of caviar, with annual exports of more than 300 tons, followed by Russia. Iranian expertise helped China produce ten tons of farmed caviar in 2013.

Saffron
Saffron and Iran are uniquely linked together. Iran harvests about 80% of the world's production of saffron. Despite its small size, this spice is quite expensive, and is suitable for many applications. Persian saffron is a natural spice also called Red Gold. It is globally known for its incomparable quality, fascinating fragrance, pleasant flavor, and superb coloring strength. The scientific name for saffron is crocus sativus. It is both a bulbous and herbal plant. The lifespan of the saffron plant is 7 to 10 years. The brown bulb of the saffron plant belongs to the corm family. Each bulb grows into 6 to 9 thin, herbal leaves. In the autumn, one or two pink or purple colored flowers bloom from each corm. The pistil of the saffron flower is in the center and contains the ovary and the thin, yellow style growing inside. Saffron flowers have bright, red stigmas that are 20 to 30 mm in length. The stigma is the edible and commercial part of saffron. The stigma has many chemical components, such as: carbohydrates, minerals, vitamins, pigment (especially crocin), essence (especially safranal) and flavorings (especially picrocin). Saffron and Iran are uniquely linked together.
Iranian carpet
A Persian carpet is a heavy textile, made for a wide variety of utilitarian and symbolic purpose, produced in Iran and surrounding areas which once belonged to the Persian Empire, for home use, local sale, and export. Carpet weaving is an essential part of Persian culture and art. Within the group of Islamic carpets produced by the countries of the so-called "rug belt", the Persian carpet stands out by the variety and elaborateness of its manifold designs. Persian carpets and rugs of various types were woven in parallel by nomadic tribes, in village and town workshops, and by royal court manufactories alike. As such, they represent different, simultaneous lines of tradition, and reflect the history of Iran and its various peoples. The carpets woven in the Safavid court manufactories of Isfahan during the sixteenth century are famous for their elaborate colours and artistical design, and are treasured in museums and private collections all over the world today. Their patterns and designs have set an artistic tradition for court manufactories which was kept alive during the entire duration of the Persian Empire up to the last royal dynasty of Iran. Carpets woven in towns and regional centers like Tabriz, Kerman, Mashhad, Kashan, Isfahan, Nain and Qom are characterized by their specific weaving techniques and use of high-quality materials, colours and patterns. Town manufactories like those of Tabriz have played an important historical role in reviving the tradition of carpet weaving after periods of decline. Rugs woven by the villages and various tribes of Iran are distinguished by their fine wool, bright and elaborate colours, and specific, traditional patterns. Nomadic and small village weavers often produce rugs with bolder and sometimes more coarse designs, which are considered as the most authentic and traditional rugs of Persia, as opposed to the artistic, pre-planned designs of the larger workplaces. Gabbeh rugs are the best-known type of carpet from this line of tradition. The art and craft of carpet weaving has gone through periods of decline during times of political unrest, or under the influence of commercial demands. It particularly suffered from the introduction of synthetic dyes during the second half of the nineteenth century. Carpet weaving still plays a major part in the economy of modern Iran. Modern production is characterized by the revival of traditional dyeing with natural dyes, the reintroduction of traditional tribal patterns, but also by the invention of modern and innovative designs, woven in the centuries-old technique. Hand-woven Persian carpets and rugs were regarded as objects of high artistic and utilitarian value and prestige from the first time they were mentioned by ancient Greek writers, until today. Although the term "Persian carpet" most often refers to pile-woven textiles, flat-woven carpets and rugs like Kilim, Soumak, and embroidered tissues like Suzani are part of the rich and manifold tradition of Persian carpet weaving. In 2010, the "traditional skills of carpet weaving" in FARS and Kashan were inscribed to the UNESCO Intangible Cultural Heritage Lists.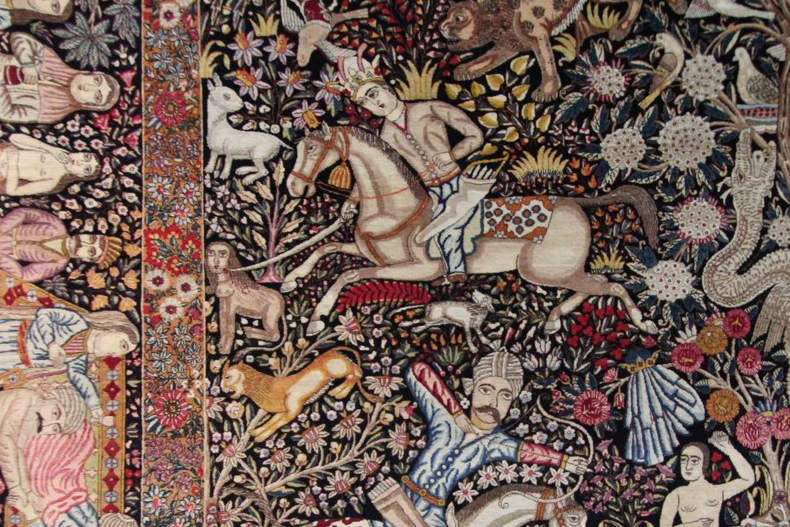 Neyshabur Turquoise
The most important Nishapur souvenirs include turquoise and rhubarb. Neyshabur Turquoise has been used for more than 2000 years and for this turquoise it is sometimes called "the turquoise land". Neyshabur turquoise and jewellery made from it are sold as souvenirs in Neyshabur and Mashhad resorts. Neyshabur Turquoise is the finest in the world. For at least 2,000 years, Iran and Neyshabur has remained an important source of turquoise which was named by Iranians initially "pirouzeh" (Arabic Firouzeh) meaning "victory". This deposit, which is blue naturally, and turns green when heated due to dehydration, is restricted to a mine-riddled region in Neyshabur, the 2,012-metre (6,601 ft) mountain peak of Ali-mersai, which is tens of kilometers from Mashhad, the capital of Khorasan province.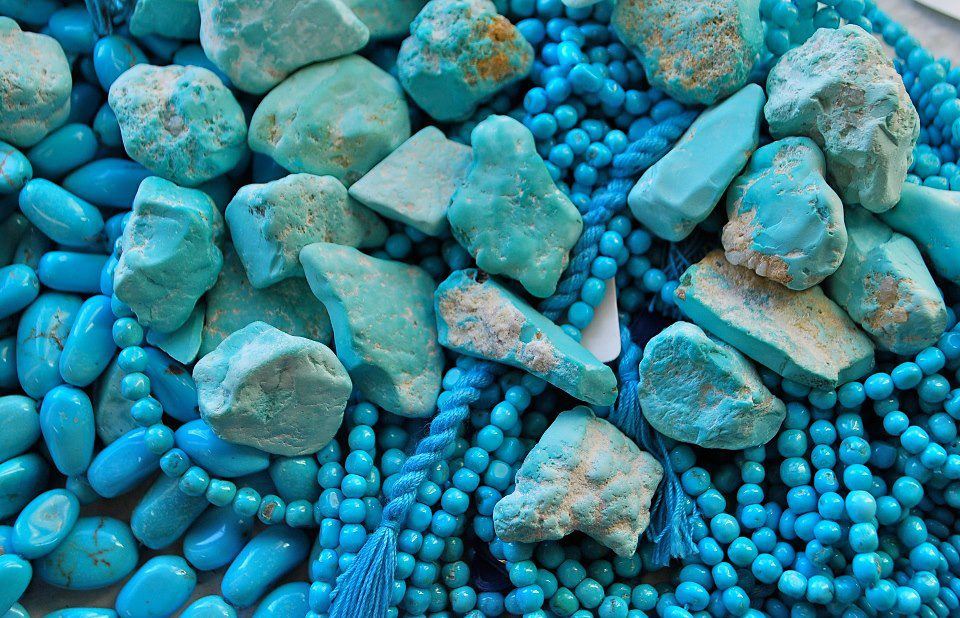 [:]